626 W. Woodbine Ave

Kirkwood, Mo. 63122






Gianninis Auto Service Inc "Testimonials"

​*****  I first brought my 1989 Chevy Blazer into Giannini's Auto Service back in 1997 when my mechanic at the time failed on 4 separate occasions to fix my an ongoing problem. Through Don's diligence he was able properly diagnosis and fixed the issue and I've been a customer ever since. I have changed vehicles throughout the years (old & late models) and Giannini's Auto Service serviced each one. It's not often you find a trust worthy & professional mechanic who does the work right the first time. His attention to detail and making customers aware of any potential problems can save you money in the long run and keep your vehicle running for years to come. Keep up the great work!

Damon C.

***** Giannini's Auto Service is a different approch to car care. Rather than just replacing things as they break, Don sets you up with service intervals to keep your car running optimally. Since bringing my car there, I'm confident that getting my car to 300K on my car is entirely possible.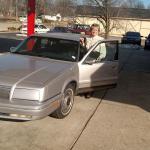 *****  Don Giannini and Giannini's Auto Service have been relied upon by my family since we moved to Kirkwood more than 20 years ago. My husband, my children and I all count on Giannini's to keep our cars well maintained and to repair any problems that cars incured.

    Don works hard to educate us and remind us to be better car owners. He sends reminders for all the usual maintenance: Oil changes, fluid flushes, tire rotations, etc. He is careful to make sure we know that he is using only the best products on our cars and why. When problems do arise, Giannini's has always gotten us back on the road while insuring our vehicles were safe and reliable.

    One other thing that Giannini's has always very thoughtfully and kindly provided is taking customers back to their homes after dropping off their car and picking them up when their car is ready. That is a service I need constantly.

    I look forward to the fine auto care that Don and his employees have offered for many years to come.

Sincerely, 

Joanne K. O'Keefe